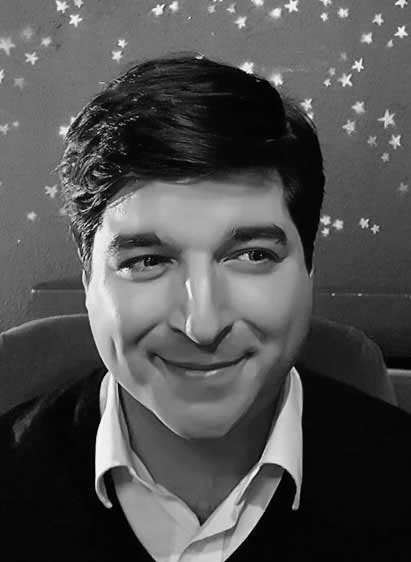 Martin
Bürgin
, lic. phil.
Doktorand
Lehrbeauftragter
Phone: +41 44 634 09 33
Address: Religionswissenschaftliches Seminar, Kantonsschulstrasse 1, 8001 Zürich
Room number: KAA-G-10
Table of contents
Biography
Martin Bürgin studied History, Study of Religions and Political Science at the University of Zurich and at the Center for Security Studies at ETH Zurich from 2005-2013. From 2008-2009 he received an Erasmus stipendiary at the Humboldt-University zu Berlin where he took courses in history, cultural studies, art history and the social sciences (political science). In May 2013 he graduated with the Licentiate of the Faculty of Arts at the University of Zurich. In November 2014 he received a Certificate of Advanced Studies in Crisis Communication at the Institute of Applied Media Studies (IAM) at the Zurich University of Applied Sciences (ZHAW). From February 2014 to August 2016 he participated in the Teaching Skills Programme at the Center for University Teaching and Learning (University of Zurich). From September 2016 to September 2017 he obtained a Certificato of Advanced Studies in Higher Education at the University of Zurich.
From 2005-2009 he worked as an archivist in the areas of transcription, development and systematization on behalf of Docuteam GmbH, Baden-Dättwil. From 2007-2012 he held several tutorships at the Department of History at the University of Zurich for Rudolf Jaun, Jakob Tanner, Philipp Sarasin, Marianne Sommer, Annerose Menninger, Heinz Hauser and Lorena Rizzo. In 2009 he worked as a research assistant at the professorship of Military History at the Military Academy at ETH Zurich (MILAK). In autumn semester 2013 he worked as substitute at the Chair for History of Religion and the Study of Religions at the Department for the Study of Religions at the University of Zurich. From May 2013 to May 2017 he was a Research Fellow at the Chair of History of Old Catholicism and Ecclesiastical History at the Faculty of Theology of the University of Bern where he edits the correspondence of Eduard Herzog and Joseph Hubert Reinkens (supported by the Swiss National Science Foundation). For the academic year 2015/2016 he was a fellow at the Leo Baeck Institute in London and a stipendiary of the Studienstiftung des Deutschen Volkes. Together with Christoph Uehlinger he initiated, organized and led a project in the field of «research-oriented teaching and learning» from January to September 2017, funded by the Teaching Fund for Innovative Teaching at the University of Zurich. Within the University of Basel based «Jewish Cultural Space Aargau» project he works on the history of Swiss rural Jewry from the 17th Century to the foundation of Canton Aargau.Since September 2013 Martin Bürgin holds a teaching assignment at the Department for the Study of Religions at the University of Zurich. Together with Philipp Hetmanczyk he initiated the cross-disciplinary GRC Peer Group for Religion and Politics which is operative since January 2017. For the Royal Baden Art Centre Martin Bürgin curates and hosts the «royalscandalcinema» film cycle for the History of the Cinematic Scandal.
Martin Bürgin writes a thesis on the so-called plum war, an anti-Judaic pogrom that occurred in Endingen and Lengnau on 21st of September in 1802. The dissertation is funded by the Forschungskredit of the University of Zurich, the Swiss National Science Foundation and the Studienstiftung des deutschen Volkes. His supervisors are Christoph Uehlinger (Study of Religions, Zurich), Jacques Picard (Jewish History and Cultural Anthropology, Basel) and Jakob Tanner (Social and Economic History, Zurich).
Since December 2014 he is a board member of the Association of doctoral students, postdocs and scientific employees of the University of Zurich (VAUZ). From March 2015 to March 2017 he represented the interests of mid-level staff as a delegate at the Faculty of Theology. In September 2016 he was elected to the Academic Senate of the University of Zurich.
Areas of Interest
Cultures of remembrance, historiography and social memories
Food and foodways as media of religious symbol systems
History of ideas in religions, politics and polities
Religious contacts and conflicts
Religion and architecture
Publications
Geschichtsbilder, politische Identitäten und das Recht: Gebrauchsgeschichtliche Topoi im Kommentar zur geplanten Änderung der basel-landschaftlichen Verfassung im Nachgang zum "Fall Therwil", in: Zeitschrift für Religionswissenschaft (in preparation).
Theologische Tribes and Territories: Die Revue Internationale de Théologie als Medium multipler Allianzbildungen, in: Internationale Kirchliche Zeitschrift (in preparation).
Vom ersten Archivgang zum eigenen Tagungspanel: Forschendes Lernen in der Religionswissenschaft, in: Zeitschrift für Religionskunde – Revue de didactique des sciences des religions (in preparation).
Architektur als Ausdruck religiöser Identität, in: Zeitschrift für junge Religionswissenschaft (in preparation).
Ländliche Lebenswelten: Die Surbtaler Juden und ihr Umfeld vom 17. Jahrhundert bis zu den Anfängen des Kantons Aargau, in: Picard, Jacques, Bhend, Angela, Jüdischer Kulturraum Aargau (in preparation).
Wolf Dreyfus: Finanzagent der Helvetischen Republik, in: Picard, Jacques, Bhend, Angela, Jüdischer Kulturraum Aargau (in preparation).
Der Zwetschgenkrieg, in: Picard, Jacques, Bhend, Angela, Jüdischer Kulturraum Aargau (in preparation).
Zwischen Vertreibung und Duldung: Jüdische Siedlungen und Niederlassungen in der frühneuzeitlichen Eidgenossenschaft, in: Schmölz-Häberlein, Michaela (ed.), Jüdisches Leben in der Region: Herrschaft, Wirtschaft und Gesellschaft im Süden des Alten Reichs, Reihe Stadt und Region, Bd. 7, Würzburg: Ergon, 2017, 31-75.
The Diamond Commemorations: Social memory and politics of remembrance in the struggle against the Swiss armed forces, in: Crociani, Piero, Bifolchi, Annalisa (eds.), ACTA ICMH 2013 (39th Congress of the International Commission of Military History), Roma: Litos Roma, 2013, 1127-1136.
From the Classics to Cultural History: Perspectives for Insurgency und Counterinsurgency Research, in: Brocades Zaalberg, Thijs, Hofenaar, Jan, Lemmers, Alan (eds.) Insurgency and Counterinsurgency: Irregular Warfare from 1800 to the Present, Den Haag: Netherlands Institute of Military History, 2011, 245-255.
Die Schweizer Stay-behind-Organisation P-26 als staatliche Konzeption einer präventiven Staatsstreichsorganisation?, in: Stups Journal - Akademische Zeitschrift der Studierenden der Humboldt Universität zu Berlin, Heft 1 (2010), 58-69.
Insurgency und Counterinsurgency aus historiographischer Perspektive: Von den Klassikern zur Kulturgeschichte, in: Newsletter der Internationalen Kommission für Militärgeschichte, Nr. 13, Potsdam, 2009, 10-20.
Frömmigkeit und Fronarbeit: Der Bau der St. Niklauskapelle in Oberehrendingen 1948, in: Badener Neujahrsblätter 2008, Baden: Hier und Jetzt, 2007, 105-113.
Courses
Methoden und Theorien der Religionsgeschichte, Department for the Study of Religions at the University of Zurich (fall semester 2019)
Grundkurs Judentum, Zurich University of Teacher Education (PHZH), provided at the Department for the Study of Religions at the University of Zurich (fall semester 2019)
Vertiefungskurs Judentum, Zurich University of Teacher Education (PHZH), provided at the Department for the Study of Religions at the University of Zurich (fall semester 2019)
Mikrogeschichte, Historische Religionswissenschaft und Wikipedia, Department for the Study of Religions at the University of Zurich (spring semester 2019)
Religion und Kapitalismus, Department for the Study of Religions at the University of Zurich (fall semester 2018) together with Philipp Hetmanczyk
Mythostheorien, Department for the Study of Religions at the University of Zurich (fall semester 2017) together with Philipp Hetmanczyk
Kirchen, Moscheen, Synagogen, Tempel: Architektur als Ausdruck religiöser Identität , Department for the Study of Religions at the University of Zurich (spring semester 2017) together with Christoph Uehlinger
Religionsgeschichte und Religionsbegriffe unter dem Einfluss faschistischer Ideologien, Department for the Study of Religions at the University of Zurich (spring semester 2016) together with Philipp Hetmanczyk
Religion in Wirtschaft und Gesellschaft: Max Webers Religionssoziologie, Department for the Study of Religions at the University of Zurich (fall semester 2015) together with Philipp Hetmanczyk
Die Konstruktion der Vergangenheit: Geschichtstheorie und Geschichtsphilosophie, Department for the Study of Religions at the University of Zurich (spring semester 2015) together with Christoph Uehlinger
Einführung in die Religionswissenschaft, Department for the Study of Religions at the University of Zurich (fall semester 2014) together with Philipp Hetmanczyk
Historische Religionswissenschaft als Kulturgeschichte, Department for the Study of Religions at the University of Zurich (spring semester 2014)
Weltbilder: Fragestellungen, Quellen und Methoden der Religionsgeschichte, Department for the Study of Religions at the University of Zurich (fall semester 2013) together with Farida Stickel
Eduard Herzog und die Christkatholische Kirche, Department of Old Catholic Theology at the University of Bern (fall semester 2013) together with Angela Berlis
Wenn das Volk nur fressen kann: Geschichte der Esskultur, Departement of History at the University of Zurich (spring semester 2011) together with Maurizio Gaffuri