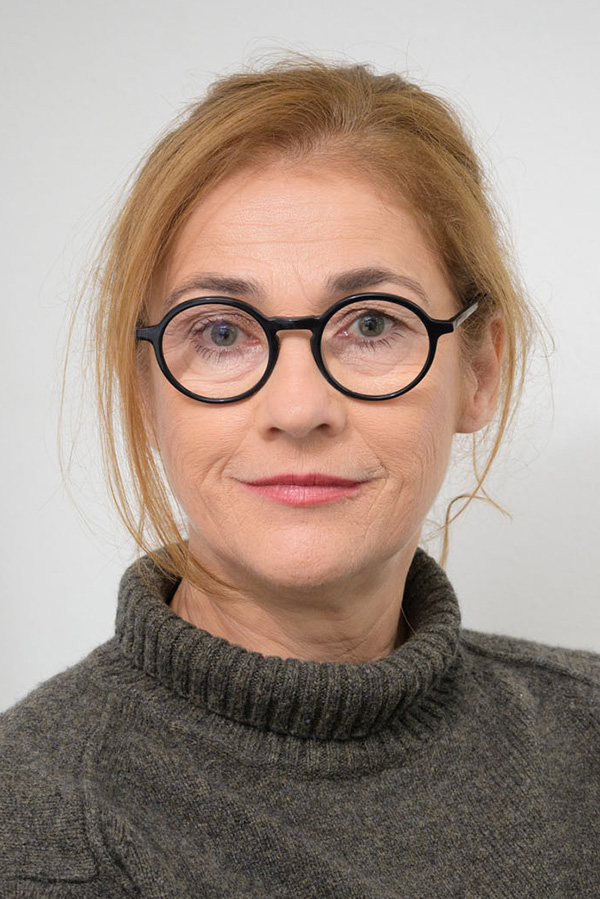 Dorothea
Lüddeckens
, Prof. Dr.
Dekanin / Professorin für Religionswissenschaft mit sozialwissenschaftlicher Ausrichtung
Phone: +41 44 634 47 19
Address: Religionswissenschaftliches Seminar, Kantonsschulstrasse 1, 8001 Zürich
Room number: KAA-F-09
Table of contents
CV
Since 2010 associate professor for the Study of Religions with focus on social sciences.
2009-2010 fellowship at the Lichtenberg-Kolleg at the University of Göttingen.
2008 habilitation, thesis on "Bruch und Kontinuität. Die Bedeutung der Todesrituale für die Parsen in Bombay".
2004-2009 March, assistant professor for the Study of Religions at the University of Zurich.
2001-2003 research assistant at the degree program of the Study of Religions at LMU Munich.
2000-2003 employee at the DFG-project "Ritualistik und Religionsgeschichte: Zoroastrische Rituale in wechselnden kulturellen Kontexten" at the University of Heidelberg.
1999 dissertation on "Das Weltparlament der Religionen von 1893. Strukturen der interreligiösen Begegnung im 19. Jahrhundert", Berlin, New York 2001.
Born 1966, studies in the Study of Religions, Philosophy and evangelical Theology in Munich, Würzburg and Bonn.
Married, three children.
Office Hours
I am happy to assist with student requests, such as signatures for assessments, reviews of term papers, exam topics or literature lists, questions with regard to presentations, etc. during my office hours.
Please make an appointment at: michelle.daepp[at]uzh.ch.
Teaching, Studies
Written assignments have to be handed in on 01. January (Fall Semester) and 15. June (Spring Semester).
Main research areas
Religion in contemporary society
Religion and medicine
Alternative spirituality at the end of life
Contemporary Zoroastrianism
Qualitative research into religion
Death rituals
Research groups and networks
Selected Publications
Books
Days of Transition. The Parsi Death Rituals (gemeinsam mit R. Karanjia), Göttingen: Wallstein Verlag, 2011.
Bruch und Kontinuität. Die Bedeutung der Todesrituale bei den Parsen in Bombay [Habilitationsschrift, in Vorbereitung zur Publikation 2012]
Das Weltparlament der Religionen von 1893. Strukturen interreligiöser Begegnung im 19. Jahrhundert, Berlin/New York: Walter de Gruyter, 2002.
Editorial work
Methodological Approaches to Societies in Transformation (Series Title: Anthropology, Change and Development), Cham: Palgrave Macmillan, 2021. (mit Y. Berriane, A. Derks und A. Kreil) (Open access)
Medicine, Religion, Spirituality. Global Perspectives on Traditional, Complementary, and Alternative Healing, Bielefeld: Transcript: 2018. (mit M. Schrimpf) (Open access)
Die Sichtbarkeit religiöser Identität. Repräsentation – Differenz – Konflikt (Reihe CULTuREL, Bd. 4), Zürich: Pano, 2013. (mit R. Walthert und Ch. Uehlinger)
Fluide Religion. Neue religiöse Bewegungen im Wandel. Theoretische und empirische Systematisierungen (Reihe Sozialtheorie), Bielefeld: transcript, 2010. (mit R. Walthert)
Begegnungen von Religionen und Kulturen. Festschrift für Norbert Klaes, Dettelbach: J. H. Röll, 1998.
Articles, Dictionary entries
Making Sense of Change: Methodological Approaches to Societies in Transformation – An Introduction (gemeinsam mit Yasmine Berriane, Annuska Derks, Aymon Kreil), in: Berriane, Yasmine/Dersk, Annuska/Kreil, Aymon/Lüddeckens, Dorothea (Hrsg.): Methodological Approaches to Societies in Transformation: How to Make Sense of Change (Serie: Anthropology, Change and Development), Cham: Springer International Publishing, 2021, 1–29. (

Open Access

)

Religion, Medicine, and Health: A Survey of an Emerging Field (gemeinsam mit Pamela E. Klassen, Philipp Hetmanczyk, und Justin B. Stein), in: Klassen, Pamela E./Lüddeckens, Dorothea/Hetmanczyk, Philipp/Stein, Justin B. (Hrsg.): The Routledge Handbook of Religion, Medicine, and Health, London: Routledge, 2021, 1–10.

Contemporary Psychiatry and Psychotherapy's Engagements with Religion/Spirituality in Europe and North America (gemeinsam mit Thomas Lüddeckens), in: Klassen, Pamela E./Lüddeckens, Dorothea/Hetmanczyk, Philipp/Stein, Justin B. (Hrsg.): The Routledge Handbook of Religion, Medicine, and Health, London: Routledge, 2021, 477–492.
Die Relevanz religionswissenschaftlicher Kompetenz für das Fach "Religionen-Kulturen-Ethik", Artikel zur Fachtagung HSGYM - Religion zur Weiterentwicklung des religionskundlichen Unterrichts an den Zürcher Mittelschulen (HSGYM), 2020.
Zoroastrianism, in: Possamai, Adam/Blasi, Anthony J. (Hrsg.): The Sage Encyclopedia of the Sociology of Religion, Thousand Oaks, CA: SAGE Publications, 2020, 934.
"Imagined Origin": Ayurveda, Reiki und Traditionelle Chinesische Medizin, in: Tulaszewski, Martin/Hock, Klaus/Klie, Thomas (Hrsg.): Was Heilung bringt, Bielefeld: Transcript, 2019, 155–168.
"Religion on Twitter: Communalization in Event-Based Hashtag Discourses" (with Mirjam Aeschbach [lead author]), in: Online-Heidelberg Journal of Religions on the Internet, 14, 2019, 108-130. (Download (PDF, 1 MB))
Complementary and Alternative Medicine (CAM) as a Toolkit for Secular Health-Care. The De-differentiation of Religion and Medicine (gemeinsam mit Monika Schrimpf), in: Lüddeckens, Dorothea/Schrimpf, Monika (Hrsg.): Medicine, Religion, Spirituality. Global Perspectives on Traditional, Complementary, and Alternative Healing, Bielefeld: Transcript: 2018, 167-199. (Open access/ ZORA)
Observing the Entanglement of Medicine, Religion, and Spirituality through the Lens of Differentiation (gemeinsam mit Monika Schrimpf), in: Lüddeckens, Dorothea/Schrimpf, Monika (Hrsg.): Medicine, Religion, Spirituality. Global Perspectives on Traditional, Complementary, and Alternative Healing, Bielefeld: Transcript: 2018, 9-21. (Open access/ ZORA)
Crossing Fields. Anthroposophical End-Of-Life Care in Switzerland, (gemeinsam mit Barbara Zeugin [Erstautorin], Monika Schrimpf) in: Lüddeckens, Dorothea/Schrimpf, Monika (Hrsg.): Medicine, Religion, Spirituality. Global Perspectives on Traditional, Complementary, and Alternative Healing, Bielefeld: Transcript: 2018, 201-240. (Open access/ ZORA)
Religiöse Gemeinschaft (gemeinsam mit Rafael Walthert), in: Pollack, Detlef/Krech, Volkhard/Müller, Olaf/Hero, Markus (Hg.): Handbuch Religionssoziologie, Wiesbaden: Springer VS Verlag für Sozialwissenschaften, 2018, 467–488. (ZORA)
Alternative Death Rituals in Switzerland: Building a Community of Shared Emotions and Practices, in: Journal of Contemporary Religion 33/1, 2018, 107–121. (ZORA)
"Therapeutische Migranten": Wiederherstellung der Balance zwischen Körper und Geist. Integration von Spiritualität über "ganzheitliche" Heilverfahren, in: terra cognita 28, 2016, 42–46. (ZORA)
"Boundary making" via (religiöse) Kleidung?, in: Nollert, Michael/Sheikhzadegan, Amir (Hg.): Gesellschaften zwischen Multi- und Transkulturalität, Zürich: Seismo Verlag, 2016, 165–187. (ZORA)
La Religiosité Alternative dans les Soins Palliatifs des Hôpitaux, in: Brandt, Pierre-Yves/Besson, Jacques (Hg.): Spiritualité en Milieu Hospitalier, Genf: Labor et Fides, 2016, 141–155. (ZORA)
Rituelle Selbstermächtigung und strukturelle Flexibilität. Neue Bestattungsrituale als Coping Ressource im Trauerprozess, in: Fechtner, Kristian/Wolf, Susanne (Hg.): Praktische Theologie, Neue Rituale 3, 2015, 156-160. (ZORA)
Trauerrituale in der alternativen Trauer- und Bestattungskultur, in: Klie,Thomas/ Kumlehn, Martina/ Kunz, Ralph/ Schlag, Thomas (Hg.): Praktische Theologie der Bestattung, Berlin: de Gruyter, 2015, 207-227. (ZORA)
Relevanz in der Interaktion: Kleidung und Religion, in: Lüddeckens, Dorothea/Uehlinger, Christoph/Walthert, Rafael (Hg.) Die Sichtbarkeit religiöser Identität. Repräsentation – Differenz – Konflikt (Reihe CULTuREL, Bd. 4), Zürich: Pano, 2013, 37-75. (ZORA)
Alternative Heilverfahren als Religionshybride, in Berger, Peter A./ Hock, Klaus/ Klie, Thomas (Hg.): Religionshybride – Religionsproduktivität posttraditionaler Gemeinschaften? Wiesbaden: Springer VS, 2013, 107-120. (ZORA)
Religion als religiös-ethnische Gemeinschaft. Das Beispiel der Parsi Zoroastrier in Indien, in: Kölner Zeitschrift für Soziologie und Sozialpsychologie 65, 2013, 333-357. (Open access)
Religion und Medizin in der europäischen Moderne, in: Stausberg, Michael (Hg.), Religionswissenschaft, 2012, 283–297. (ZORA)
"One Happy Family": Gemeinschaft über den Tod hinaus. Zu den Todesritualen deease from Life – Release in Life: Indian Perspectives on Individual Liberation. Bern: Lang, 2010, 111-128. (ZORA)
Das Ende der Gemeinschaft? Neue religiöse Bewegungen im Wandel (gemeinsam mit Rafael Walthert), in: Lüddeckens, Dorothea/Walthert, Rafael (Hg.): Fluide Religion. Neue religiöse Bewegungen im Wandel. Theoretische und empirische Systematisierungen (Reihe Sozialtheorie), Bielefeld: transcript, 2010, 19-55. (ZORA)
The Lay Zoroastrians Perception of Death and After Death Rituals, in: Dastur Kayoji Mirza Institute (Hg.), Dasturji Dr. HormazdUdvada), 2010, 193-203. (ZORA)
Fluide Religion: Eine Einleitung (gemeinsam mit Rafael Walthert), in: Lüddeckens, Dorothea/Walthert, Rafael (Hg.): Fluide Religion. Neue religiöse Bewegungen im Wandel. Theoretische und empirische Systematisierungen (Reihe Sozialtheorie), Bielefeld: transcript, 2010, 9-18. (ZORA)
Fluide Religion. Vom Wandel Neuer religiöser Bewegungen, in: Georgia Augusta 7, 2010, 49-59. (ZORA)
Distanz und Nähe – Teilnehmen und Beobachten: Ethische Verflechtungen religionswissenschaftlicher Forschung, ein Kommentar, in: Ethikkommission der Universität Zürich (Hg.): Ethische Verantwortung in den Wissenschaften, Zürich: vdf Hochschulverlag, 2007, 165-173. (ZORA)
Oase ohne Geier, in: Bestattungskultur 7, 2006, 14-15. (ZORA)
Transfer of Ritual (gemeinsam mit Robert Langer, Kerstin Radde, Jan Snoek), in: Journal of Ritual Studies 20/1, 2006, 1-10. (ZORA)
Emotion, in: Kreinath, Jens/Snoek, Jan/Stausberg, Michael (Hg.): Theorizing Rituals: Bd. 1: Issues, Topics, Approaches, Concepts (Numen Book Series: Studies in the History of Religions), Leiden: Brill, 2006, 545-570. (ZORA)
Ritualtransfer (gemeinsam mit Robert Langer, Kerstin Radde, Jan Snoek), in: Langer, Robert/Motika, Raoul/Ursinus, Michael (Hg.): Migration und Ritualtransfer: Religiöse Praxis der Aleviten, Jesiden und Nusairier zwischen Vorderem Orient und Westeuropa (Heidelberger Studien zur Geschichte und Kultur des modernen Vorderen Orients, Bd. 33), Frankfurt am Main: Peter Lang, Europäischer Verlag der Wissenschaften, 2005, 23-34. (ZORA)
Bruch und Kontinuität in Todesritualen. Beobachtungen zu westeuropäischen und zoroastrischen Bestattungen, in: Stausberg, Michael (Hg.): Zoroastrian Rituals in Context (Numen, Studies in the History of Religions), Leiden/Boston: Brill, 2004, 153-172. (ZORA)
Neue Rituale in allen Lebenslagen. Beobachtungen zur Popularisierung des Ritualdiskurses, in: Zeitschrift für Religions- und Geistesgeschichte 56/1, 2004, 37-53. (ZORA)
Verortete Religion – Religiöser Ort. Religion als Lehrgebiet in Studiengängen für das Schulfach Geographie/Erdkunde (gemeinsam mit H. Vogel), in: Fauth, Dieter/Bubenheimer, Ulrich (Hg.): Hochschullehre und Religion - Perspektiven verschiedener Fachdisziplinen, Würzburg: Religion-und-Kultur-Verlag, 2000, 241-285. (ZORA)
Research reports
Sichtbar gemachte religiöse Identität, Differenzwahrnehmung und Konflikt. Schlussbericht zuhanden des NFP 58 "Religionsgemeinschaften, Staat und Gesellschaft" (gemeinsam mit C. Uehlinger, R. Walthert u. a.), 2010. (ZORA)
Imam-Ausbildung und islamische Religionspädagogik in der Schweiz? Schlussbericht im Rahmen des NFP 58 (gemeinsam mit U. Rudolph, C. Uehlinger u. a.), 2009. (ZORA)
Podcasts
Erleuchtung Garantiert. Wissenschaftliche Spotlights auf Religion und Spiritualität, Staffel 2, Februar - Juni 2022. Zum Podcast
Erleuchtung Garantiert. Wissenschaftliche Spotlights auf Religion und Spiritualität, Staffel 1, April - Juli 2021. Zum Podcast